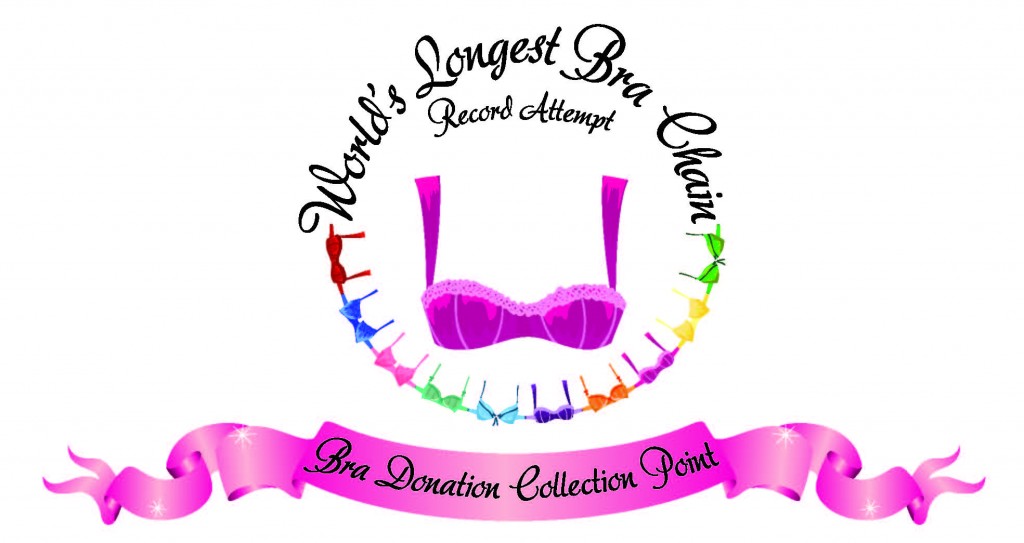 Hi, and thank you for your interest in becoming an official World's Longest Bra Chain 'Bra Donation Collection Point.
World Record - 5 Strategic Initiatives
1. Raise much-needed funding for cancer prevention and early detection, this time specifically within our youth, by supporting the McGrath Foundation 'Curve Lurve' program.
2. Break the world record, and leverage the event to gain as much exposure as possible for the other 4 initiatives.
3. Support Australian businesses that offer their support by either registering as official, bra donation, collection points or sponsoring other events and activities organised by MY LIFE. MY STYLE and The 'ME' Movement.
4. Develop a Circular Economy framework we can embed into our fundraising project and every day lives, commencing with the donation of the wearable bras, after we break the record, to those less fortunate than us both here at home or abroad.
5. Create a social movement for those in the community that feel a pull towards what it is I am trying to achieve, and those that are looking for a group of like-minded individuals they can connect with and feel like they are apart of something bigger than themselves. An environment to support and inspire and feel supported and inspired by, through discovering their own 'purpose' in life.
Your role:
♥ Actively promote to your database of clients, family, friends, fans and followers that you are an official "collection point".
♥ With every bra that is collected you encourage bra donors to also donate $1 with EACH bra, this is not mandatory but is ideal.
The only exception to this would be if another charity donates bras I do not expect them to donate dollars i.e. Lifeline etc. Please note I do not expect that you should pay it on their behalf, but for all others I ask that you manage this accordingly. The purpose is to raise funds first and foremost, breaking the record is second.
♥ Transfer the funds donated to the official donation page (link below).
MY LIFE. MY STYLE. - McGRATH FOUNDATION 'CURVE LURVE' DONATION LINK
IMPORTANT -
In the name area please enter YOUR business name, so I know who has made the donation. Example - MY LIFE. MY STYLE.
In the message please enter your business name again and the number of bras (should equal the $ donated) and your website address or a phone no. etc some way that your potential clients can find you. Use this to promote your business! Example - MY LIFE. MY STYLE. 100 bras, www.mylifemystyle.com.au
For those collecting in SEQ, Darling Downs and Northern Rivers I am able to arrange collection of your bras. For those collecting elsewhere around Australia, please get in touch to discuss delivery options.
What I will do for you:
♥ Provide you with a promotional kit including logos and a quantity of fridge magnets to hand out to those donating bras or your clientele to remind them to bring them in next time they visit your business.
♥ List your business as an official 'Bra Donation' Collection Point on the MY LIFE. MY STYLE. Website.
♥ List your business in the MY LIFE. MY STYLE. Little Black Business Book Directory.
♥ Give you access to the MY LIFE. MY STYLE. Life + Style Blog, to be able to Guest Blog and promote your business to our database. Please use this service responsibly and fairly.
♥ Promote your business events through our MY LIFE. MY STYLE. Events Calendar. Simply drop us an email, with your event details and we will add it to our website calendar and to our social media platforms.
♥ Promote your business through our social media platforms i.e. Facebook page, Facebook Group, Instagram, Twitter, Pinterest, Google + etc.
♥ I will actively drive traffic to this site, through paid and organic S.E.O. methods, via our social media platforms, online paid advertising and all media / PR opportunities given to us for the record attempt.
So that's it in a nutshell. If you wish to get on board then please register your interest via the form below. Should you have any questions then click here and pop me an email, via the Get In Touch page.
Thank you once again, from the bottom of my heart, for supporting my mission and myself. Your support is what is going to make this dream come true.
Wishing you every success in business and in life,