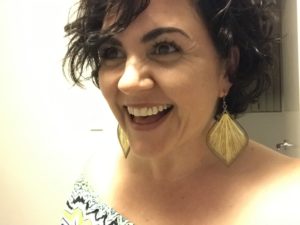 Hi! I'm Caryn Thomas and welcome to MY LIFE. MY STYLE. my Life + Style blog and the home of my "World's Longest Bra Chain" world record attempt.
I am passionate about making the most out of this one life I've got and am looking to inspire and connect with like-minded women, wanting to live their life to the fullest.
I am happiest when I feel I am adding value to another. It is the rewarding sensation I enjoy when I feel I have made a difference that has motivated me to turn my fundraising 'fun' into a business venture and 'give-back' initiative.
MY LIFE. MY STYLE. (originally a personal blog) today is a Social Movement inspiring women to discover, design and achieve their full potential, to live their 'on purpose' life, through authentic connections… I call it The 'Me' Movement.
Here on the site, you will find a mix of all my favourite things from fun events, fashion, food, frills, music, cool things to do, fundraising and more…
My current fundraising initiative is my second attempt at the "World's Longest Bra Chain", proudly raising much-needed funding for the prevention and early detection of breast cancer within our youth.
I host regular events for members and the greater community… Clothing Exchanges, Member's Lunches, Pop Up Markets, Social events and more… Each event has a 'give-back' initiative and a true community spirit.
And for those that have the Entrepreneurial Spirit running through their veins, I welcome the opportunity to put on my 'Business Hat' and talk shop with you.
Having been a business owner myself since 1998, I am inspired by anyone brave enough to take action and turn their business idea into a reality.
Through 'MY LIFE. MY BUSINESS. Coaching' I support those wishing to transition from the corporate world into entrepreneurship. I offer 1 on 1 Business Coaching, as well as facilitating a Group 'Mastermind' Program – The Entrepreneur's Boardroom, for those looking for regular feedback from like-minded business owners.
As you scroll through the MY LIFE. MY STYLE. website you will discover I am devoted to raising awareness and much-needed funding for the early detection and prevention of cancer within our youth. It was a horrific year, over a decade ago now, that my family experienced SIX members being diagnosed with a form of this disease. Two breast cancer, three prostate, and one melanoma. It was a terrible time and unfortunately, we lost two beautiful souls. But as I am one to always look for the bright side, I choose to be grateful for the fact that we still have the other four with us and they are all happy and healthy today.
You will see that it has been several years since my first attempt at the world record and to be honest it was a difficult time when we were unsuccessful the first time around. So for me to continue with this mission I needed to take some time out and reassess WHY I would continue to collect bras and break the world record.
Through this time I have been on quite a journey… I am a Mumma to two amazing humans, my stepson Jake and my daughter Olivia. I have been divorced. I have turned 40 and I am now undertaking my MBA studies, given I don't have a degree it has been quite an interesting time… I have learned so much about myself and it is the collection of experiences that have lead me to this point in my life and have highlighted the motivation of WHY I need to finish what I started…
While I believe that our environment is a huge contributor of the increase in cancer in our world, I am also mindful that my most precious possessions have a genetic link to this disease… my children are my motivation and my desire for them to live a long and healthy life.
It is this motivation that has me align with the McGrath Foundation's Curve Lurve program. I had the pleasure of seeing a Curve Lurve Nurse present at a school in Warwick when I went to pick up the bras the girls had collected for me. I was so impressed with the practical, real world advice and tools passed onto the girls that I knew this was something I wanted to support. To find out more about this amazing program click here…
As mentioned above, I am also a huge supporter of Australian businesses and lover of all things entrepreneurial, so as you browse my website be sure to check out my Little Black Book Business Directory. Here you will find a list of all the generous businesses that have supported my fundraising efforts, in one way or another, over the years, along with some new friends joining the party.
I do hope you enjoy your time here, if you would like to keep up to date with all the Juicy News, upcoming events, World Record progress and more be sure to SUBSCRIBE to my 'Juicy News" newsletter and connect with us on all our favourite social media spaces (links top left, side bar and in the footer).
Wishing you an abundant 'On Purpose' life,